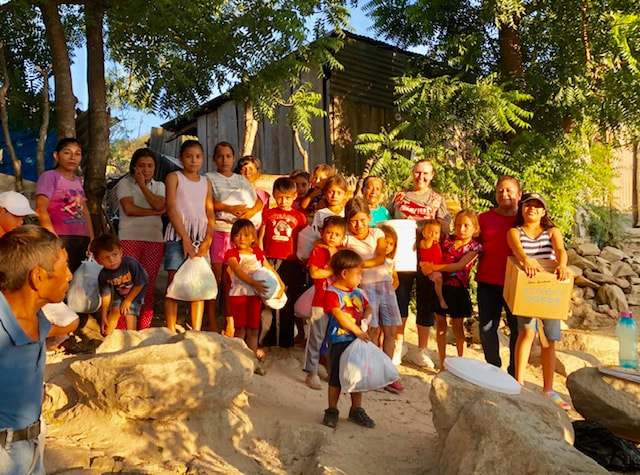 Christmas Gifts that Save Lives: 2019 Wish List

Here are some ways that anyone can work along with us to provide basic and life-saving needs to families in poverty-stricken villages of Zacapa. These gifts help us share God's love in tangible ways that open the doors to relationships with families. For the holidays, donors can designate their gifts to go to one or more of the following areas:

1. Blessing Baskets of food. We can provide 2 weeks worth of food for only $40 (family of 4 to 6 people). Large families will receive 2 baskets. Guatemalans love to celebrate Christmas, but those in extreme poverty have no way to do that. We give corn, beans, rice, Incaparina (nutritional drink mix), milk, cereal and soup in our Blessing Baskets.

2. Five-gallon "Ecofiltro" water filters manufactured in Guatemala. Clean drinking water is not available in any of the 3 villages where we minister. The water table has dropped due to years of drought, and there are no funds available to drill new wells. Children, the elderly, and those with compromised immune systems are dying due to illnesses from parasites in the drinking water. A $50 filter can save lives!

3. Wood stoves with chimney pipes for cooking. Cooking fumes from open fires inside homes and huts are a major cause of lung disease for women and children. The mothers bake corn tortillas daily, as an inexpensive and stomach-filling staple of their diets. Open fires indoors, mean that the women and children are inhaling fumes equivalent to smoking as many as 8 packs of cigarettes a day!! They often have babies in a hammock near the fire! Many babies die due to lung ailments. Our Gabby had lung problems when we met her, after living in a mountain hut for her first 6 months near a cooking fire. A $200 stove can literally save lives!

4. Sewing machines. God has really blessed our ladies sewing class and Bible study, held at our church in Conevisa. The women are so overjoyed to be earning money to provide for their children, and we are able to sell their creations in the U.S. We'd like to start a sewing class for beginners in January and so we need additional machines. A gift of $180 can help turn a single mom struggling with poverty into an entrepreneur with her own way to earn an income! It's a real confidence-builder for ladies, as they grow in faith and skills. These are legacies they can pass down to the next generation.

5. "10 + 10 = 20" Here is an idea for family/group involvement that is really fun. Ask 9 family members or friends to give $10 each. Add your $10, and you have $100. With that donation, we can buy $5 toys for 20 children living in poverty! The math adds up LOL!! Would you consider doing this with your family on Thanksgiving Day? It would bring such joy to kids who don't receive Christmas gifts.

If you wish to give a gift for one or more of these items on our website, please designate where you would like the money to be used -- Blessing Baskets, water filters, stoves, sewing machines or Christmas toys. You can click on any donate button here on this website, and all gifts are tax-deductible. There's also an address on the "Contact Us" page where checks can be sent.

We really want YOU to decide, because it's so exciting to see how God speaks to each person and puts it all together to provide a beautiful Christmas season. Thank you for helping us share the Gospel through these gifts, as we are able to give them with an explanation of THE REASON FOR THE SEASON -- Our Savior Jesus Christ!!

Much love to you and yours this Christmas season. <3


---
Life of Promise Ministries
Our Mission Statement: Life of Promise Ministries is a Christian organization providing services to women and children from isolated areas of Guatemala who are in crisis situations. Abusive relationships and/or crisis pregnancies are the two main circumstances addressed by our ministry. We share God's love and grace while offering temporary housing, basic material needs, and counseling.
​
March, 2019 and October, 2019:
Clean Water Zacapa Projects

The poor have an Urgent need for clean drinking water here in the desert of Zacapa!!
--This is the "corredor seco" (Dry Corridor) of desert in the Zacapa valley where droughts are a continual problem.
--The water table has dropped due to drought, so wells that were drilled in the impoverished villages are no longer deep enough. Wells in 2 of our villages have gone dry, and the third village never had a well.
--The poor have resorted to unclean drinking water from the contaminated Zacapa river because they cannot afford to buy drinking water.
--There are many diseases caused by water pollution. These include gastrointestinal diseases, rotovirus, reproductive problems, neurological disorders, and even cancer. Anyone can be affected -- but babies, young children, elderly people, and pregnant women, are more susceptible to illnesses from various water contaminants. Those with weakened immune systems can be over-run with bacterial infections that can lead to death.
--We have seen many illnesses and deaths in our villages over the years due to these serious problems.
Therefore, to raise awareness, I (Arlene) will be competing in an open water swim challenge sponsored by Manatí Open Water Guatemala on Sunday, October 13. My first open water swim was in Lago Del Pino on March 10, and we were able to raise funds for 70 filters. Once again I will be swimming one mile, and we hope to raise enough for 70 more filters!
We need sponsors, please!!! Five-gallon water filters with ceramic inserts cost $50 each. We wish to raise $3,500 to provide filters for 70 families. Many more families need them, but for now this is our goal. GOD IS ABLE!!
The Ecofiltros are made in Guatemala and they work very well to filter out contaminants. We have one in our home. Would you consider purchasing a water filter (or any amount towards a filter) to help us save lives?
We will focus on this outreach once again during October and November. Just click on the donate button here on this page. You can donate with a credit or debit card, and it's not necessary to have a PayPal account. Checks can be sent to the address on our "Contact Us" page.
THANK YOU for caring and being a GREAT BLESSING for our neighboring families who have no alternatives to provide for the health of their loved ones.
God bless you !!! <3 <3 <3

---


June 2018:
Mothers' Small Business Startups and Mother's Day outreaches in 3 Zacapa villages!!
(see captions under each photo in this slideshow for more details)


​November 2017: Home business start-ups for single mothers and widows.
We are giving families a hand up out of extreme poverty by funding small business start-ups for single moms and widows. Opportunities including sewing, perfume and soap making, food carts, and vegetable gardens. Your donation of $100 or $200 can help a mother provide for her children through these ventures. Below is a video of Thelma's story and our relationship with her.
Thank you to Hencer Oliva of Creativa Studios, Zacapa for your wonderful video skills.



May 2017:
God's Heart for Mothers Project!
"A father of the fatherless and a judge for the widows is God in His holy habitation." --Psalm 68:5

For Mother's Day, we've chosen 28 single moms and widows living in Conevisa and the dump. These are families in the greatest need, so we plan to give Blessing Bags of food and clothing, plus a special lunch at the church just for the moms. We are asking for $35 to feed a family of 4 (mom and up to 3 children), and $50 to feed a family of 6 (mom and up to 5 children). The food should last them 3 to 4 weeks. Many of these widows and single moms are also caring for nieces, nephews and grandchildren who have been orphaned. They simply cannot provide for these children without our help.
We have many truly heartbreaking situations in our village. We have families in desperate need, struggling to survive and deal with life-threatening poverty. Much of this is due to a 4-year drought and lack of jobs for farm workers and uneducated people.
We have begun a project to help single moms and widows start their own small businesses to provide for their families. While these businesses are just beginning, help is needed to feed the families until their efforts begin to show a profit. A donation of $200 will allow one of our mothers to have their own home business.
Would you give a gift this Mother's Day in honor of your own Mom, Grandma, Aunt or special woman in your life? You can click on the Donate button to give here on our website. Thank you and God bless you for your consideration.



---
January 2017: Fighting for survival in 4th year of drought

Zacapa is now in its 4th year of a terrible drought. So many of the people we serve are left without jobs because crops have dried up and failed. The water table has dropped in Zacapa, and many wells have to be moved and/or dug deeper. Our village of Conevisa has been without water since April. Families with young children are going hungry each day because there are no farm jobs, and many are dying from preventible diseases. Please pray for the people of Guatemala. Our hearts are broken for the families that we love so much. Please consider giving to

Life of Promise Ministries

so we can help single mothers and children with emergency supplies of food and water. You can make a credit or debit card donation right here on our website.

Take a look at these beautiful faces! Souls that our Lord created in His sovereignty and His great love. In the top photo, they are waiting for a bowl of cereal outside Iglesia Shalom Jireh, our church in the village of Conevisa. For some of these children, it is the only meal they will receive for the day. In the bottom photo, these single mothers and their children live and work at the Zacapa dump. We are thanking God that He has called Life of Promise to bring these children to our new mission house playground for Bible lessons, reading lessons, lunch and play time. Please see our "Mission House" page for more details.

Summer 2015 mobile medical clinics!



2015 in our own backyard: ministering to three needy neighborhoods in Zacapa



2014: Building the mission house and a home in the mountains for a needy family!

March 2013: Saving the lives of mothers and babies in crisis. We are so thankful for God's goodness!!



Beautiful people of the mountain villages